Role and responsibility of divisional administration for activating village courts is stressed
2018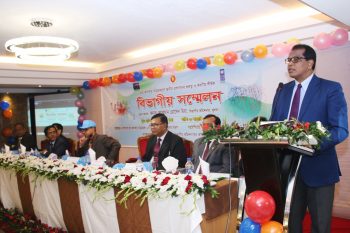 Activating Village Courts in Bangladesh Phase II (AVCB II) Project and Office of the Divisional Commissioner, Khulna jointly organized a Divisional Conference on Village Courts in Khulna on 20 January 2018. The main objective of the conference was to get guidance and advice from divisional level administration to make village courts more active and effective not only in project unions but across Khulna division.
As the Chief Guest Mr. Lokman Hossain Miah, Divisional Commissioner of Khulna said, "We have to play a vital role in making village courts more effective for reducing the numbers of cases of the lower courts in addition to resolve disputes at a lower cost and locally". "If the village courts would be more effective, 80 percent of cases will be settled locally and it will contribute in establishing peace and order at community level," he added.
Md. Faruq Hossain, Additional Divisional Commissioner (General), Khulna presided over the conference in which around 200 participants attended. As special guests Md. Mahbub Hakim, Additional Police Commissioner, Khulna; Mr. Nishchinta Kumar Podder, Additional Divisional Commissioner, Khulna; Mr. Subash Chandra Saha, Additional Divisional Commissioner (Revenue), Khulna; Md. Amin Ul Ahsan, Deputy Commissioner, Khulna and Mr. Tapan Kumar Biswas, Deputy Commissioner, Bagerhat addressed to the participants.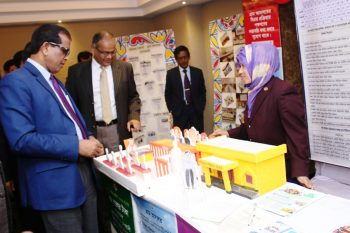 Mr. Sarder M. Asaduzzaman, National Project Coordinator of the Activating Village Courts in Bangladesh Phase II (AVCB II) Project spoke in the event. He mentioned in his speech, 'village court is not a project 'this is a service' which is a significant mandate of the government of Bangladesh to be implemented throughout the country. In order to ensure justice and dispute resolution sessions for the rural people, the Honorable Prime Minister, on 23 July 2017, gave instructions to the Deputy Commissioners to activate village courts'.
The speakers said that under the leadership and direction of local administration, Deputy Director Local Government and Upazila Nirbahi Officers, village courts can be successfully implemented in different districts (Khulna, Satkhira and Bagerhat) of Khulna division in 16 upazilas. In addition, the leadership and role of the Union Parishad chairmen of the project area is appreciable for raising awareness about village courts among local people and encouraging them to receive its services.
Speakers also recommended to regularize the meeting of the Upazila Village Court Management Committee (VCMC) and implement its decisions at upazila level to make village courts more effective. At the same time, they also emphasized on taking innovative initiatives by chairmen to create village courts more gender-friendly.