Capacity development of village court stakeholders
2017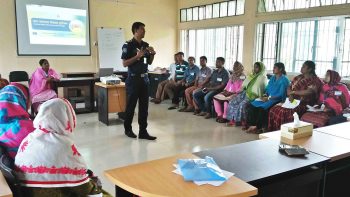 In 2017, AVCB II Project provided trainings to 11,960 service providers of village courts at upazila and district level to enhance their capacity. Participants of these trainings mainly learnt about Village Court Act 2006, Village Court Rule 2016, VC procedures and steps, VC documentation, etc. For conducting these trainings effectively, as a technical partner National Institute of Local Government (NILG) formed a team of Master Trainers of village court at central level and 27 District Training Pools (DTPs) in 27 districts with the assistance of Local Government Division (LGD). Later on, DTP members conducted trainings in respective districts and upazilas. As the Training Course Director respective DDLGs provided guidance and technical assistance to the DTP members as well as the project for conducting these training. Details of the trainings are as follows: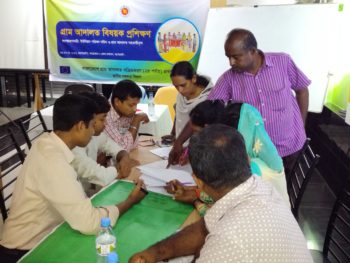 Established a team of Master Trainers:
NILG formed a team of Master Trainers comprising of 16 members from LGD, NILG, Project Management Unit (PMU) and individual experts and provided a three days Training of Trainers (ToT) on village court in February 2017.
Developed 27 District Training Pools (DTPs):
A total of 315 DTP members received ToT with the partnership of NILG for providing trainings to the UP representatives, Village Courts Assistants and Village Police. Each DTP is comprised of 12 members: District Legal Aid Officer, Additional Superintend of Police, Deputy Director, Department of Social Services, Deputy Director, Department of Youth Development, District Women Affairs Officer, respective partner NGOs (BLAST/ESDO/MLAA/Wave Foundation) and AVCB II Project.
Training provided to UP stakeholders
With leadership of the Upazila Nirbahi Officers (UNO) the members of DTP provided capacity building trainings to 1,028 UP Chairmen, 1,119 Panel Chairmen, 1,035 UP secretaries and 7,703 UP members. In addition, 1,075 Village Courts Assistants were trained on village courts.