Consultation meetings on gender awareness raising strategy development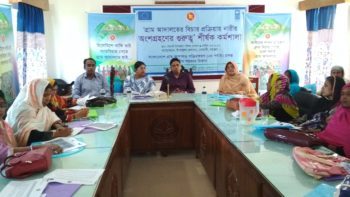 In order to get insights on the challenges for gender-equal access to village courts and gather recommendations on the appropriate awareness raising interventions, during September to October 2017, AVCB II organized four consultation meetings in Sylhet, Rangpur, Chittagong and Khulna. A total of 143 participants (58 women) including UP Chairmen, UP members, Women Development Forum representatives, representatives from women's rights organizations, local NGOs and government officials from local administration were present in the meetings.
The participants shared that getting women's representation in VC decision-making process is one of the major challenges for women and other disadvantaged groups in getting equal access to village courts. They also shared, ignorance of the parties about the relevant provision of law, lack of confidence of the parties on women panel members, and reluctance of the parties to nominate women as panel members and others are major challenges to promote women's representation in decision making process of the village courts.
To combat the above challenges participants recommended for massive awareness raising and behavioral change activities targeting both women and men at community level. In addition, engaging youths, religious leaders, vested interest groups in these awareness activities is important for creating better access to village courts by women as both panel members and service seekers.