Half yearly coordination meeting on progress review and planning at district level
2017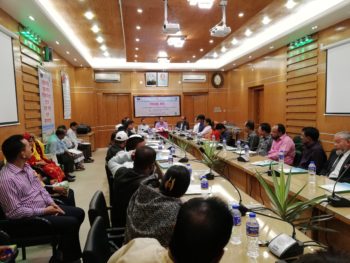 For reviewing progress, way to overcome challenges as well as developing effective work plans for 2018 AVCB II Project organized half yearly coordination meetings in 27 districts in November 2017. The meetings were mostly inaugurated by Deputy Commissioners of concern districts and Divisional Commissioners while Chief Judicial Magistrates, Police Supers, Additional Deputy Commissioners, Upazila Chairmen were present as special guests. Deputy Directors Local Government (DDLGs) from the project areas chaired the meeting and UP chairmen/panel chairmen, representatives from districts training pools (DTPs), UNOs, media and others took part.
Major discussion points of these meetings were regularizing meetings of Village Courts Management Committees (VCMCs), quantity and quality of case disposal process, creating mass awareness, women leadership as panel members of village courts etc.
These meetings resulted an action plan and commitments from the participants to ensure proper guidance and decisions whenever required from their end to make village courts better functional.