Promote Village Courts in media to foster dispute resolutions locally and reducing case backlogs in higher courts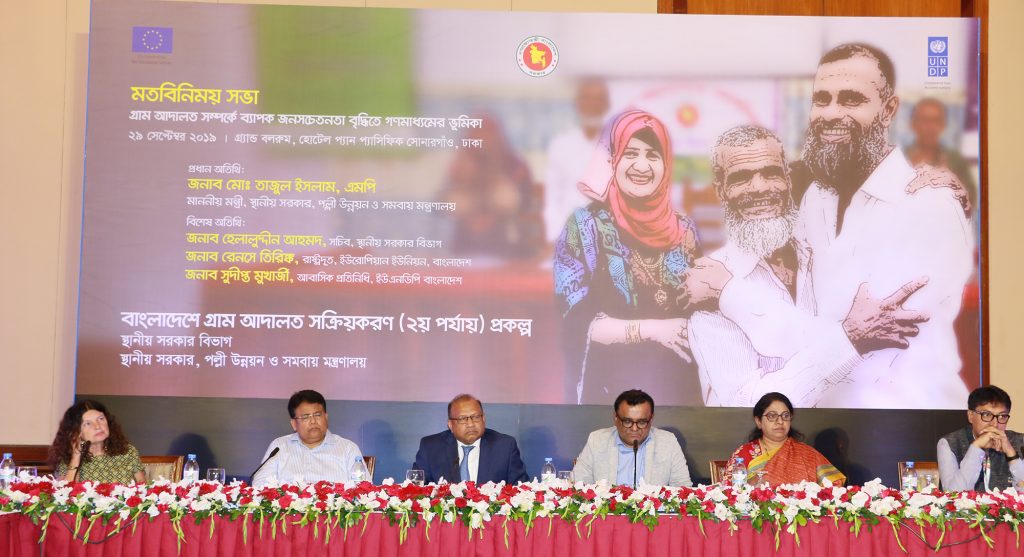 "Promoting success and messages of village courts in media is crucial in facilitating access to justice to the rural poor including reducing case backlogs in higher courts by resolving disputes locally" remarked Mr. Md Tazul Islam, MP, Honorable Minister, MoLGRD&C as chief guest in a consultation meeting with journalists organized by Activating Village Courts in Bangladesh Phase II Project implemented by the Local Government Division with trio-partnership of European Union, Bangladesh Government and UNDP.
As a Special Guest Mr. Helal Uddin Ahmed, Secretary, Local Government Division said, "Village Court is a functional mechanism to maintain peace and harmony in rural areas as it brings justice services towards door steps of the rural people. Media can encourage people to receive services of village courts by raising massive awareness through reports, features, articles etc.''
Ms. Rensje Teerink, Ambassador of the European Union (EU) to Bangladesh, as a Special Guest of the event shared, "EU continues its commitment to strengthen social justice in Bangladesh by supporting village courts to ensure rural poor, especially women and vulnerable people, can access to justice to solve their petty disputes at community level. Following noticeable achievements of village courts within project areas, EU with support of government and UNDP is expanding its support in the three districts of Chattogram Hill Tracts to strengthen their traditional justice system along with exploring feasibility of village courts' implementation in 15 unions.''
Mr. Sudipto Mukerjee, Resident Representative, UNDP Bangladesh in his speech as a Special Guest mentioned, "Remarkable success of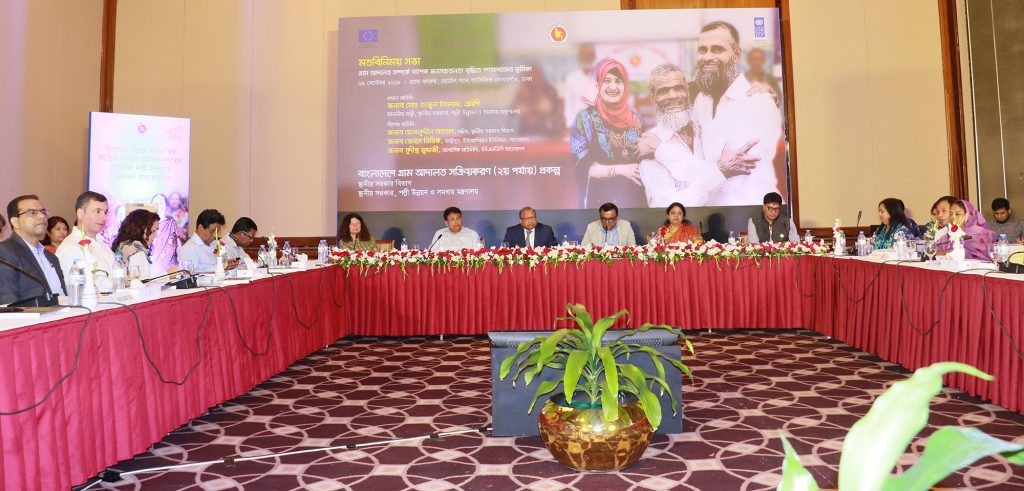 village courts in resolving 78% cases among more than 1.33 lac (1,33,664) cases registered including 7,000 cases transferred from district courts in project areas creates a good example that it can widely contribute to reduce case backlogs in the higher courts.'' He also thanked EU, Bangladesh government and Local Government Division for supporting Activating Village Courts in Bangladesh Phase II Project which is working to make village courts more functional in 1,080 unions of 27 districts.
As the Chair of the event Ms. Roxana Quader, National Project Director, Activating Village Courts in Bangladesh Phase II Project and Additional Secretary, Local Government Division said, "Increasing number of registered cases every month shows village courts are becoming popular among rural peoples as they receive services with only 10/20 Taka as fee and within minimum time without any hassles." She also informed the journalists, among the applicants in village courts 29% are women while 16% women participated as panel members to deliver justice services.
Sarder M. Asaduzzaman, National Project Coordinator mentioned that Activating Village Courts in Bangladesh Phase II Project is supporting 1,080 unions of 128 upazilas under 27 districts in eight divisions to make village courts more functional to serve approximately 30 million rural poor (2 crore 90 lac people). In these unions, within two years (July 2017-August 2019) 1,06,702 cases were resolved among 1,33,664 registered cases. Among the resolved cases, decisions were implemented in 94% cases and by obtaining services of village courts applicants received a total of BDT 104 crore 37 lac ($12.36 million) as compensation. This project has been scaled up recently in 121 unions of 26 upazilas under three districts of Chattagram Hill Tracts to support traditional justice services. Earlier from 2009-2015, this project was piloted in 351 unions in 14 districts.