Dolena Begum get back BDT 75,000 by village court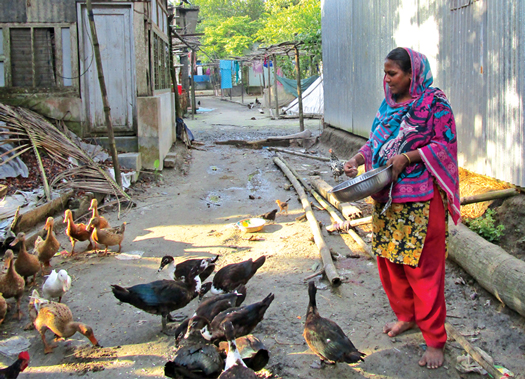 Dolena Begum (40) is a poor housewife of Chandradighulia union of Gopalganj district. Maintaining a six members' family with mere income of her rickshaw puller husband is hard, so she herself also rears poultry to raise income. In June 2017, Md. Kamrul Mina, one of her relatives who stays in same village took BDT 75,000 (US$ 893) loan from her with a commitment of paddy as interim interest for six months to run his business, the amount she saved within hardship. Eventually, due date had been passed, she did not get any paddy she supposed to have as interest of this loan, rather, Kamrul was missing dates repeatedly to pay back her amount.
In January of this year, Kamrul refused to pay back her loan. For getting this money back, Dolena appealed to village leaders for justice, but Kamrul did not heed to their decisions. At this point, Dolena Begum was feeling more dishearten.
In this helpless condition, Dolena Begum learned about village courts' services from a court yard meeting held at neighbour's house and filed an application against Kamrul on 20 January 2018 at Chandradighulia Union Parishad. On 20 February 2018, a village court was formed comprising UP chairman of the union along with four selected representatives as panel members by both the parties. On the first day's (17 February 2018) hearing session, village court declared its decision publicly following consent of all the panel members (5:0) that respondent Kamrul will pay back BDT 75,000 to Dolena Begum within next seven days. On the first hearing day, when VC declared its decision, Dolena Begum got her entire money back from Kamrul.
Village Courts support to ensure legal rights in access to justice to the poor, disadvantaged and marginalized rural people specially women like Dolena Begum. Following Bangladeshi law, each union of the country has a Village Court for mainly dealing with petty civil and criminal cases within BDT 75,000 (approximately within US$ 893). For making these VCs more effective and functional Activating Village Courts in Bangladesh Phase II Project (AVCB II) works in 27 districts including Gopalganj with financial and technical support of European Union (EU), Government of Bangladesh and United Nations Development Programme (UNDP). Under this project, during last one year (July 2017- June 2018), in total 982 cases (297 female and 685 male) were filed in 32 unions including Chandradighulia of Gopalganj covering three upazilas. Among the cases 823 (84%) were resolved while decisions were implemented for 602 (73%) cases.
After getting her money back, Dolena Begum plans to establish a poultry farm nearby her house along with managing educational expenses of her children. Dolena is satisfied with the justice delivered by VC and remarked, "I became helpless when Kamrul refused to pay back my money and behaving badly. Because I am not able to run a case in district court or taking support from police station. VC has recovered my money". She also shared, being a relative respondent Kamrul is regularly communicating with her family like earlier. Relationship with him also reconciled after getting back the due amount.